July has not been a particularly interesting month. The coolest thing to happen this month is my son became an UNO expert and is learning how to play a competent game of 5 card stud. It's amazing how much math you can teach a 6 year old while playing poker with chips. And, we haven't even started talking about odds yet. Financially though there's no good or bad news to report. My Project X business is still on hold while we wait to see if our grant money comes in, and DW's business is experiencing the summer doldrums as well.
Since not much is going on I decided to take a retrospective look at my assets and liabilities since I started doing these updates in 2010. The good news is that the slope of both lines is going in the right direction! That is, liabilities are declining while assets are increasing. This is good because it means I'm building wealth through both paying down debt and saving. I like the trends!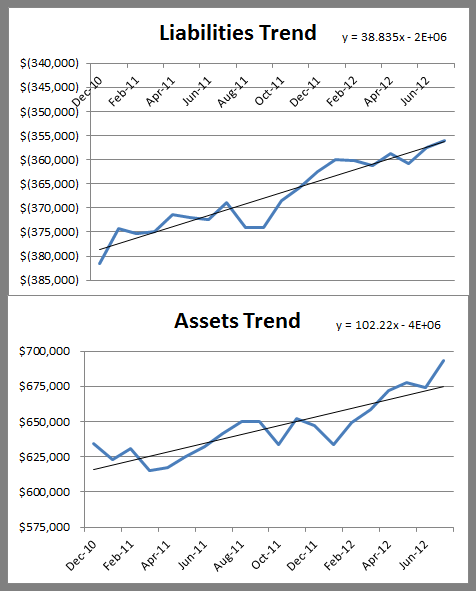 ASSETS
On the asset side, Zillow says our value took a small hit last month. We're still basically makes its value flat for the year though. Our savings is now up 46% year to date and reflects a much higher level of liquidity. I thought by now I would have made my Roth contributions, but I am holding back for a couple of reasons. Neither is that I'm scared I won't have enough money which is good. The first reason is that the Project X grant money is up in the air, and I can't be sure I won't need to increase my equity in the company between now and the end of the year in order to keep things moving. The other reason is that I have a new potential job in the works, and it could come with enough guaranteed money this year that I would ineligible to contribute due to income limits. That would be a GREAT problem to have. If that occurred I would simply open a traditional IRA to continue saving since I already have budgeted in maxing out my 401k this year.
LIABILITIES
For liabilities, everything is on track. We paid off my son's mattress this month, but then replaced our own mattress so the credit card debt is a bit higher than normal. It doesn't matter though since we'll pay it off in full on the due date. The slow trudge through all my "good debt" continues. I talked to the mortgage broker again, and we're getting closer to pulling the trigger on another mortgage refinance. The process back in Jan/Feb was a bit arduous so I'm not in a rush to do this unless the deal is truly superior. Also if that other job came through I may consider a switch to a 15 year mortgage. Time will tell.
As always, credit cards are still getting paid off every month and variable rate student loans are still getting paid down aggressively.
NOTE: This is the quest for my first million. By retirement my goal is to accumulate $5 million. However, I refuse to stop living now just to make that happen.
What about you? How's your net worth shaping up this month? How does that look year over year?
Catch up on all my Net Worth posts here.