Month 1 of 2012 is done, and I rather think it's been a good one. The weather has been nice, I still have a job, and we've had no major illnesses or breakages of major household items or autos. The DW has had a relatively successful business month and finally got paid for all of her Medicaid clients. A welcome chunk of change. Additionally, I got my 401k match for 2011 this month so that was an extra $4k. I'm not fully vested yet, but once April comes along, I'll be 80% there which is closer than I've ever been at any company that makes you go through a vesting process. All in all a much better start to 2012 than in 2011.
ASSETS
On the asset side, my home value fell (again), but this is still meaningless to me. Zillow might be right or it might be wrong, but I just had another appraisal done in January that gives me a valuation ~$25,000 higher. If you're thinking new appraisal means a refinance, you win the gold star. I'm working on it now with a likely close in late February. I'll be providing a lot more detail on that process soon.
Investment and retirement accounts have shown some nice moves. Of course some of this is due to the 401k match and Roth funding. I really like seeing a quarter of a million dollars in retirement savings though. Let's hope we hold these gains and build on them.
LIABILITIES
For liabilities, it's the same ol' story. Credit cards are still getting paid off every month, variable rate student loans are still getting paid down aggressively, and 1.08333 mortgage payments are being made. Credit card accounts are significantly higher this month because I'm carrying the hotel bills for myself and two other employees as well as other travel expenses. I'll get reimbursed for those long before they come due.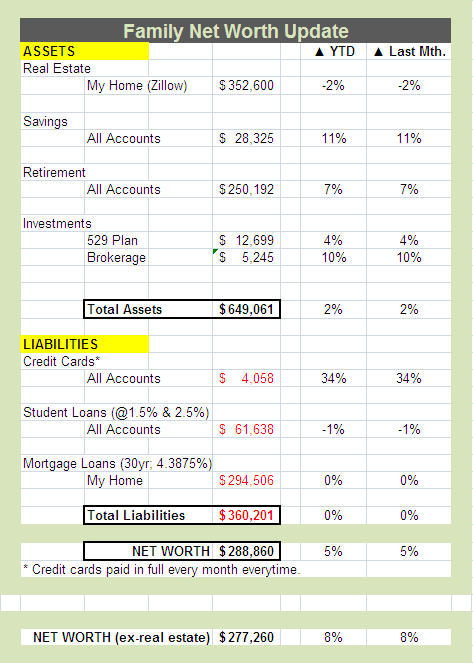 What about you? How's your net worth shaping up this month? How does that look year over year?
Catch up on all my Net Worth posts here.