Stocks For Your Kids Series:
Dear Son,
Well, it's just a few days past your 7th birthday and it seems we're buried in Chima LEGO's over here.  What strides you've made this year in math and reading.  The other day you even asked me if you could take a book on the bus so you could keep reading it.  Um, yeah!  And, just this weekend you caught this new record catfish.  Meanwhile, while you've been working hard in school, your money has been working hard for you as well.
Although our economy still has a long way to go to recover from this recession and our US Congress continues to disappoint, the stock market has had an incredible run over the past 6 months.  Fortunately, most of the stocks in you Sharebuilder.com account have seen some significant gains too.  As a reminder, last year your grandmother gave you $1,000 to invest again so some of these stocks have been held for 3 years while the ETF's have been held  for just 1 year.  Regardless, your return of 42% looks pretty darn good.  If we exclude the ETF's the return is higher (55%).
So, what's the story this year for your portfolio?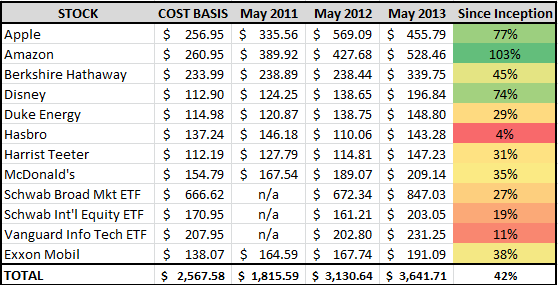 I think one of the biggest story's this year is the slide in Apple.  Your Apple investment has dropped in value substantially since this time last year (-20%).  Instead of panic selling your shares, we continue to reinvest the dividends to acquire more partial shares at a lower cost basis than in 2012.  Even with the drop this year, you're still up 77% in this stock.
Another less sexy story is Hasbro.  Last year, this stock was down 20% from inception.  Today it's at +4%.  And, it just raised it's dividend.  That's a nice turnaround.
Amazon, Disney, Duke Energy, and Exxon have been your steadiest performers with each showing consistent gains year over year.  And, your basket of ETF's are all on the plus side after 1 year so they're off to a good start.
At present I have no plans to change any of your allocations or add any money to the portfolio.  Instead, we'll funnel resources that could go here into your 529 plan so that hopefully you can escape college with as little debt as possible!