Dear Son,
Happy birthday! On Sunday you turned 6 years old. What a joy it's been to watch you grow over the past year. It's hard to believe you're almost done with kindergarten. You're really starting to understand the value of money. I love watching you check the coin returns for leftover change wherever we go. I'm continually surprised by the amount of disregarded coins you seem to find.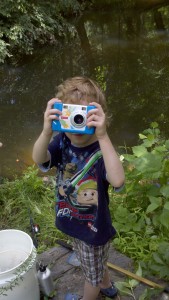 Your ShareBuilder.com account is turning 2 years old, and your nest egg is slowly growing. Like last year at this time, these are still very hard economic times both here in the US and abroad. Problems in the EU and decelerating growth in Asia Pacific continue to dampen the US ability to recover. Our family is fortunate in that I have a good job that's pretty secure. We continue to save as much as we can because there are so many things we can't control in this life, and having an emergency fund makes weathering the storms easier.
This year your grandmother created a problem for us. A good problem. She decided to give you $1,000 more dollars to add to your account. I had always thought that her original gift would be a one-time event so that we would be tracking all of your stock returns from the same purchase date. Now, with an extra $1,000 sitting in the account, it would make sense to buy some more stock for you.
When I first opened the account, I thought it would be a great idea to buy you stock in things that relate to you every day which is why most of the stocks you see are household names, and your grandma wanted you to have shares in Berkshire Hathaway so I bought you some shares of that as well. Since that time I've continued reading about investing and learning time and again that buying individual stocks is not the best way to grow your wealth. Over the past 2 years I have been selling more of my individual stocks and have been replacing them with a diversified portfolio of index funds. For this new cash infusion, I've decided to invest in your first basket of index funds.
I purchased:
SCHB – This is the Schwab US Broad Market ETF. It seeks investment results that track performance, before fees and expenses, of the approximately 2,500-stock Dow Jones U.S. Broad Stock Market Index.
SCHF – This is the Schwab International Equity ETF. The fund provides broad exposure to international large-and mid-cap companies in over 20 developed international markets. It seeks investment returns that track the performance, before fees and expenses, of the FTSE Developed ex U.S. Index made up of approximately 1,400 international stocks.
VGT – This is the Vanguard Information Technology ETF. It seeks to track the performance of a benchmark index that measures the investment return of stocks in the information technology sector.
Each of these has the lowest available expense ratios available for the type of ETF it represents. With these I'm trying to get you exposure to a wide range of US and international stocks while perhaps getting a little extra bump in return from the information technology ETF. As always time will tell if these were good decisions. Interestingly, a couple of days after I made this investment, your grandma called me and told me she wanted to put all of it in shares of Facebook. Luckily it was already too late since I had bought you these other shares already, and she didn't want me to have to sell anything in order to buy Facebook. Even had it not been too late, I think I would have tried to convince her that an all-in bet on Facebook might not be the best path forward. I will be curious to see how this plays out down the road though.
When we look at how the original portfolio has done, things look pretty good. Overall, we're up 38% over the past 2 years. This is due in large part because I bought you shares in Apple and Amazon. Much of the rest of your portfolio has experienced only modest gains despite using dividend reinvestment. The only truly troubling stock right now is Hasbro. Last year it was up 7%. This year it's down 20% from our original investment. However, I still believe in the company and with a healthy dividend yield, you'll continue accumulating partial shares at a reasonable price. Also, you still really love Transformers and Star Wars so I don't have the heart to sell you out of it.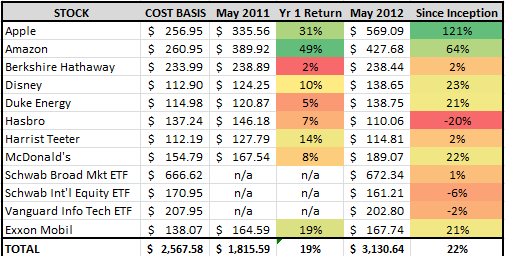 Here's hoping that year 3 will be even better, and that the new ETF's will add to your already significant gains, and that you'll finally learn how to swim so I can throw you in the deep end.
Love,
Papa