AMEX Premier Rewards Gold Card Review
Normally when I get a credit card offer in the mail, it simply gets shredded and recycled. Yesterday, however, I received an offer from American Express that proved too good to pass up. It takes a lot to catch my attention as my readers know. I remember the days of free toasters to open bank accounts. How about a free Bose® SoundDock® Series II digital music system for iPod®
to open a credit card?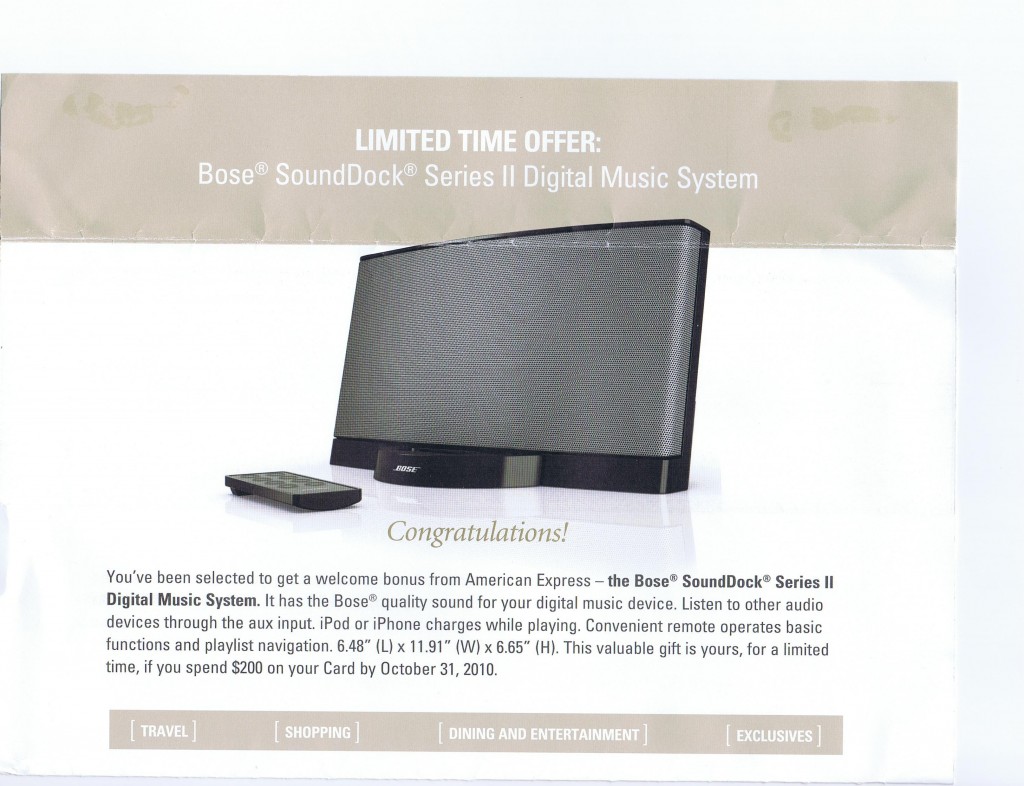 I have to admit I've been looking enviously at stand alone iPod players for about 6 months, but it's clearly a want and not a need. I had actually been leaning toward purchasing the Kicker iK501 Digital Stereo System for iPhone and iPod
. It seemed like a good quality alternative to the Bose SoundDock Series II Digital Music System ($300) which is retailing for about the twice the price of the Kicker ($178.49) on Amazon at the time of this writing. Thus, when I saw the promotion for a free iPod player, it definitely got my attention.
Let's be clear though, the Bose SoundDock Series II Digital Music System will not come totally free. The requirements for this promotion are that:
1) You need to sign up for the AMEX Premier Rewards Gold Card with the promotion number that they mailed to you. For me this phone call took me 8 minutes, and that's after they couldn't look up my other AMEX to bring in the other data to speed the process. So, the cost of my time thus far is quite low.
2) Now, I'll wait 7-10 days to get the card. UPDATE: Card arrived on 9/8.
3) Then, I'll need to spend $200 on the card before October 31, 2010. I will likely spend as close to that minimum as possible and (of course) pay it off on its due date. The offer says you can't just buy cash equivalents to get the $200 worth of spending so gift cards to myself are out. UPDATE 9/9: Bought my boss a car seat for her new baby for $213.99 and put credit card in a drawer. UPDATE 10/22: Paid off purchase. Balance is now $0.
4) Upon spending the required amount, American Express will send me my new Bose SoundDock Series II Digital Music System within 10-12 weeks. This is a long time horizon, but again this is a want, not a need. I can wait patiently. UPDATE 9/13: Called AMEX to confirm I had met the offer requirements.
5) Upon receipt of my Bose SoundDock Series II Digital Music System, I will promptly cancel this card. UPDATE 10/28: Bose SoundDock Series II Digital Music System arrived (less than 2 months since the card arrived!); AMEX cancelled
Although there is no annual fee on this card in the first year, every year after is $175. No thank you. I can't think of any rewards program (and this card has a middling one) that's good enough for me to accept that kind of fee.
So, let's look at my final costs. An 8 minute call and maybe another 7 minutes to cancel it later (so 15 minutes of my time) and $200 that won't go on my Schwab Invest First VISA which amounts to $4.00 in rewards. If I value my time at $200/hr, that puts my total cost for the system at $54. I consider these to be acceptable costs. Does anybody see anything I'm leaving out?