Marriott Rewards VISA Double Points!
Wow, 2 Marriott Rewards® Premier Credit Card posts in a row. That certainly wasn't my plan, but it is clear evidence that Chase is putting some serious marketing behind this card right now. Yesterday, I got the inset mailer offering double points on grocery and gas purchases between May 1 and June 30, 2011. The best part is the limit is on $5,000 worth of qualifying purchases. I don't know about you, but there is no way in the world I could max out that limit without a deep freeze the size of a garage to store all the excess food! There really is no catch to this offer. All you have to do is enroll your card code in the upper right of the mailer. Here is the link to enroll.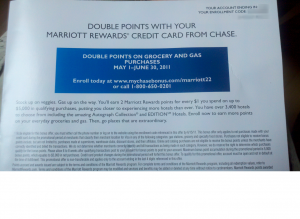 All this marketing is nice, but none of the added rewards and benefits are really that compelling to me either. I really can't justify using this card over any of the others I detailed in this quarter's dose of Maximizing What's in Your Wallet Q2 2011. Thus, for now I will continue to only use this card for stays at Marriott where the points earned really do justify the use.