On April 16th, I learned from Buck's Blog that Charles Schwab had decided to stop offering the Invest First VISA card that I use to get back 2% on all transactions. Uh-oh, time for a new card? Although the Schwab program has not (yet) been taken away from existing customers, the writing is on the wall – they're not making enough money off of this card, and the program could dissappear at their whim. Apparently, it attracted a sophisticated customer who used it often and paid their balances off every month. This should come as no surprise given the required credit score to be eligible for the account and the associated hoops you must jump through to set up the account. So, what's a cashback craving guy like me going to do? I'm going to have a backup plan, and it's the Fidelity Retirement Rewards American Express Card 2% Cashback Credit Card. This card is very similar to my Charles Schwab Invest First VISA in many ways.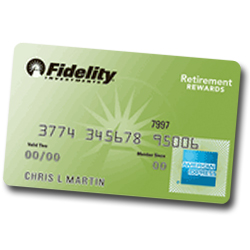 There are 3 primary differences (all negative to the AMEX) that I can identify:
1) It's an AMEX. Generally I prefer VISA over AMEX because I know AMEX charges vendors a higher transaction fee than VISA. Furthermore VISA is simply accepted in more locations.
2) Foreign Transaction Fees. The Fidelity AMEX has them, even if they are hidden in an unfriendly foreign exchange rate rather than called out explicitly as a fee. The Schwab VISA has none of this. It's irrelevant if you don't travel internationally.
3) The Schwab VISA transfers money monthly into your brokerage account regardless of how much or how little you spend. The Fidelity AMEX is more convoluted. See… "Cardmembers can choose to have their points automatically redeemed at the end of each month as a current year contribution into their Fidelity IRA or into another eligible Fidelity account. Cardmembers can also choose to accrue points and redeem them on demand at any time. You must earn a minimum of 5000 points, $2,500 in purchases, to have them redeemed into a Fidelity account. Once you have reached 5000 points, they can be converted at a rate of 1% (5000 point = $50 deposit) into the eligible Fidelity account you designate." So, if you're not spending at least $2,500/mth, you can't make the monthly transfer.
(3/1/12) NOTE: The Fidelity® Investment Rewards® American Express® Card, Fidelity Investments 529 College Rewards® American Express® Card, and Fidelity® Retirement Rewards American Express® Card are basically identical in terms of reward structure. It's all 2%. There is some variation when they offer occasional additional 5% cash back categories, but that should not drive your decision. It's much more important to think about where you want your rewards to go. However, you might be able to direct it however you please anyway based on this quote from the Fidelity site:
More than one goal? All of our Cards give you the flexibility to split rewards among multiple accounts or to redirect your rewards to any eligible1 Fidelity account at any time.
1 Eligible registrations include all non-retirement registrations. Traditional IRA, Roth IRA, Rollover IRA, SEP IRA, and all Fidelity-Managed 529 Plans are also eligible. The ability to contribute to an IRA or 529 college savings plan account is subject to IRS rules and specific program policies, including those on eligibility and annual and maximum contribution limits. Full details appear in the Program Guidelines new card customers receive with their card.